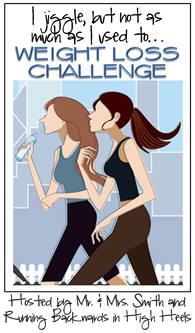 My goals for these 8wks (and a lot of weeks to follow) are to go to the gym 4 times a week (between kiddos and schedules this is doable for me, just keeping it real). I will cut out all diet soda which I should have already done, but man that's hard!! :) And I will continue to watch what I eat and portion control.
Another small change is I will park as far away from work, grocery store, etc... to get extra steps. I might look into buying a workout video too for the days I can't make it to the gym. Maybe I should also look into reading a good weight-loss book. Anyone recommend one?
For these 8wks, I would like to lose 10lbs. I would love to say 15, but I don't want to set my goal too high. Actually any weight I lose will make me very happy!