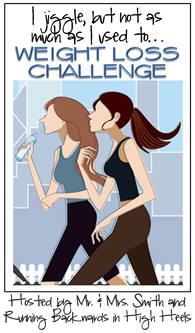 I had a good week considering I was in Little Rock a couple of days last week and did not exercise while away and my eating options were limited, but I tried to make healthy decisions where we went.
I was also introduced to
My Fitness Pal
which I think is going to be really helpful with monitoring my food intake.
Exercise this week was the Shred dvd. Jacob did a few of the moves with me. He was even cheering me on.
It was so funny!
So according to my scale this morning, I am down
2.2 lbs
from last Thursday!
Hip hip!!!
With a total percentage weight loss of
1.22%!
I hope I can keep it off as I'm heading to my parents house this weekend for Easter, and you know I can't resist momma's home cooking! :)
Two words that will help: Portion Control!! :)