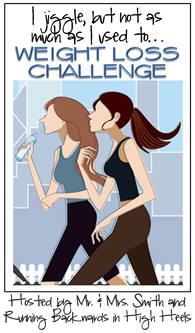 Today is the first weigh in for the weight loss challenge.
I was a couple of days late to join the bandwagon, but I've been trying to eat better and exercise for a few weeks now.
EXERCISE
This week I did the Shred DVD 3 times, walked around the neighborhood, and rode the bike around the neighborhood. Yes, I said bike, a mans bike at that. My tush is still hurting, TMI I know!
I think I will look into purchasing my own womans bike.
The Shred is going GREAT! Still on Level One, but I'm feeling it and loving it.
Oh, and I've parked in the very last spot at work too. :)
FOOD
For breakfast I am starting out with a protein shake with a Kellogs breakfast bar mid morning other mornings have been Weight-Control Oatmeal by Quaker, which I love and makes the house smell good. :)
Lunches at work have been Campbell's Select Harvest 'Light' soups.
Dinners have been from grilled chicken, veggies, whole wheat pizza, Subway.
MOTIVATION
Of course this challenge is a motivation, and seeing the scale go down is another - I LOVE that feeling!
It's actually been fun to eat healthier. It doesn't all have to taste like cardboard!
So my percentage of weight loss this week is:
.39%


I realize that is not much, but I WILL TAKE IT!